The morning after Senator Kirsten Gillibrand called for President Donald Trump to step down over allegations of sexual misconduct, the president responded with the following tweet.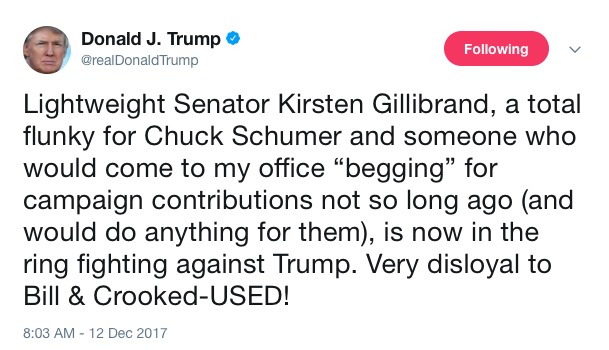 Before the senator could reply or react to Trump's tweet, MSNBC host Mika Brzezinski's anger over the post could not be contained.
Brzezinski called for Press Secretary Sarah Huckabee Sanders to denounce the tweet or resign from her position.
The angry "Morning Joe" co-host also demanded other women working in the White House demand the tweet be removed to resign.
And, in a third rant, Brzezinski ordered the president's daughter, Ivanka to step in and "speak for women."
Senator Gillibrand eventually responded to Trump's tweet on Twitter and to the electronic media.
Sen. Kirsten Gillibrand: Pres. Trump's tweet "was a sexist smear attempting to silence my voice, and I will not be silenced on this issue. Neither will the women who stood up to the president yesterday." https://t.co/uG6p5As58Y pic.twitter.com/bytwI4FBBh

— ABC News (@ABC) December 12, 2017
You cannot silence me or the millions of women who have gotten off the sidelines to speak out about the unfitness and shame you have brought to the Oval Office. https://t.co/UbQZqubXZv

— Kirsten Gillibrand (@SenGillibrand) December 12, 2017
Another democratic, Senator Elizabeth Warren also spoke up on social media, accusing the president of "slut shaming" Senator Gillibrand.
Are you really trying to bully, intimidate and slut-shame @SenGillibrand? Do you know who you're picking a fight with? Good luck with that, @realDonaldTrump. Nevertheless, #shepersisted. https://t.co/mYJtBZfxiu

— Elizabeth Warren (@SenWarren) December 12, 2017
Listen to Mike Opelka break down Mika's anger.