Thursday night, Donald Trump's personal Twitter account (@readDonaldTrump) disappeared for eleven minutes.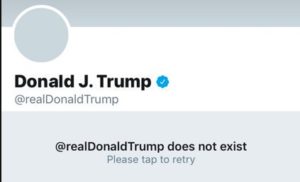 Following the brief vanishing act, the account reappeared and then Twitter started explaining…sort of.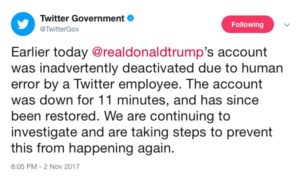 Both the removal and return sparked a flurry of online activity and questions.
Former Hillary Clinton spokesperson Brian Fallon used the outage to take a shot at the president.
Human Error is a better check on Trump than General Kellyhttps://t.co/oVuJRBSAIM

— Brian Fallon (@brianefallon) November 3, 2017
Democratic Congressman Ted Lieu wanted to award the responsible party with a pizza from Pizza Hut. (Really? Really, congressman…Pizza Hut?)
Dear Twitter employee who shut down Trump's Twitter: You made America feel better for 11 minutes. DM me & I will buy you a Pizza Hut pizza. https://t.co/ruzaVBcQp1

— Ted Lieu (@tedlieu) November 3, 2017
This account wanted the "deleter" rewarded with a Nobel Prize.
The internet has nominated the Twitter employee who shut down Trump's account for a Nobel Peace Prize pic.twitter.com/j9I4DMvh9V

— Srbija Evropa (@srbija_eu) November 3, 2017
Several people had fun speculating on the identity of the rogue employee.
New Twitter employee mistakenly deactivates Donald Trump's Twitter account pic.twitter.com/gZ50xWC2bo

— Alex Marr (@Alexmarr98) November 3, 2017
Other folks believed this would be a significant moment in their lives, something to be remembered.
Where were you when you heard that Trump's twitter account had been deleted?

— Jeet Heer (@HeerJeet) November 2, 2017
Some found the celebration of the removal to reveal the anti-Trumpers lack of appreciation of free speech.
Leftists were popping champagne corks for that 15 mins Trump's Twitter went down.

What does that tell you about their view of free speech?

— Paul Joseph Watson (@PrisonPlanet) November 2, 2017
If Trump's Twitter is harming his brand, why does the left so desperately wish to shut it down?

— Bill Mitchell (@mitchellvii) November 3, 2017
About three hours after the incident, Twitter posted a little more news, announcing it was a customer service employee who was responsible. An "internal review" is underway. (Wanna bet someone gets a call or an invitation to testify at a hearing in D.C.?)
Through our investigation we have learned that this was done by a Twitter customer support employee who did this on the employee's last day. We are conducting a full internal review. https://t.co/mlarOgiaRF

— Twitter Government (@TwitterGov) November 3, 2017
Curiously, there were no tweets from late night comedy hosts (and frequent Trump critics) like Jimmy Kimmel, Jimmy Fallon and Stephen Colbert. This is probably because the incident occurred in the early evening, after those shows normally finish recording for the night.
Follow Mike Opelka on Twitter – @stuntbrain